Outsourcing Success: a principle-based model to bring you results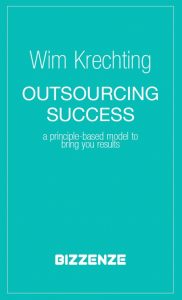 Outsourcing has become a mainstream business
model in a short time, but many outsourcing relationships fail.
Outsourcing does not need to be a risky business at all. By
applying the right principles, an organization can make better
decisions and realize the benefits of successful outsourcing
without enduring a stressful learning curve.
The book provides a useful three-level model showing how
an organization must act in order to move from being a passive
participant to becoming a competent and successful
outsourcer. The author addresses the main issues and gets
to the heart of the matter in a practical, readable style.
Challenges are reduced to their proper proportion and the
reader is briefed with clear solutions for real-world problems.
The book gives powerful insights and straightforward
principles for any organization that is already involved in
or considering outsourcing any of its activities.
Price: Eur 24,50 at Bol.com and as a e-book in here Amazon.com
ISAE 3402, in 35 vragen naar inzicht (vernieuwd)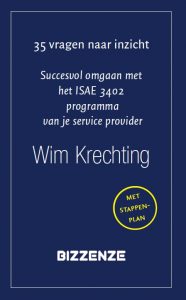 Hoewel outsourcing voor weinig organisaties onbekend terrein is,
wordt het beperkte zicht op het risicomanagement van de Service
Provider als een belangrijke belemmering ervaren. Service Providers
voorzien hierin door actief verantwoording af te leggen met
een ISAE 3402-programma.
Een ISAE 3402-rapport beoogt duidelijkheid te creëren, maar
mist vaak het doel en niet in de laatste plaats omdat gebruikers
niet goed weten hoe ermee om te gaan. Hierdoor blijft een bron
van waardevolle informatie onbenut.- Aan de hand van gebruikersvragen wordt ISAE 3402 uitgelegd zodat deze geen geheimen meer heeft.
- Het stappenplan geeft een dynamische aanpak om elke ISAE 3402-rapportage succesvol te gebruiken.
- Met kennis van ISAE 3402 ben je in staat om de relatie
met je Service Provider op een hoger niveau te brengen.
Kortom, dit boek maakt op praktische wijze inzichtelijk hoe je als
gebruiker waarde realiseert met het ISAE 3402-programma van
je Service Provider.
Euro 14,50; koop nu bij Bol.com 
Of bestel via de website
Outsourcing, succes principes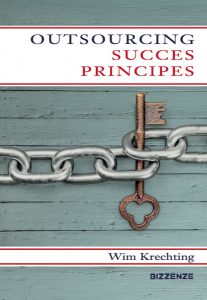 Hoewel outsourcing een reguliere strategie is, kunnen organisaties veel
meer met outsourcing bereiken. Een handzaam model – waarbij gedrag
van doorslaggevende betekenis is – maakt inzichtelijk hoe je moet
acteren om een succesvolle outsourcer te worden. Deze
succesfactoren zijn in direct toepasbare principes gevat en zijn
geschikt voor elke organisatie die overweegt activiteiten uit te
besteden of al uitbesteedt.
Koop nu bij Bol.com 
Of bestel via de website
ISAE 3402

BOEKENOutsourcing Success: a principle-based model to bring you results Outsourcing has become a mainstream businessmodel in a short time, but many outsourcing relationships fail.Outsourcing does not need to be a risky business at all. Byapplying the right principles, an organization … Read More

not rated

€

14,50

Outsourcing succes principes

BOEKENOutsourcing Success: a principle-based model to bring you results Outsourcing has become a mainstream businessmodel in a short time, but many outsourcing relationships fail.Outsourcing does not need to be a risky business at all. Byapplying the right principles, an organization … Read More

not rated

€

24,50